Working with extraordinary clients is a privilege, and I consider myself fortunate to have had the opportunity to collaborate with some truly remarkable individuals. One such client who stands out is Melanie, the passionate owner of Red Hill Car Wash. Our paths crossed last year when Melanie was gearing up to construct and unveil her third location in the Waterdown area. She approached me to handle her social media management, and our partnership extended far beyond that, allowing me to contribute to various projects aimed at elevating her brand and ensuring its success at the new establishment and the other Red Hill Car Wash locations.
The scope of our collaboration was expansive, encompassing a wide range of creative endeavors. I had the pleasure of designing business cards, company letterhead, pamphlet, flyer, posters, signage, door overlays, trailer wrap, gift cards, electronic display designs, and much more. It was an exhilarating experience to have a hand in shaping and enhancing the visual identity of Red Hill Car Wash across multiple touchpoints.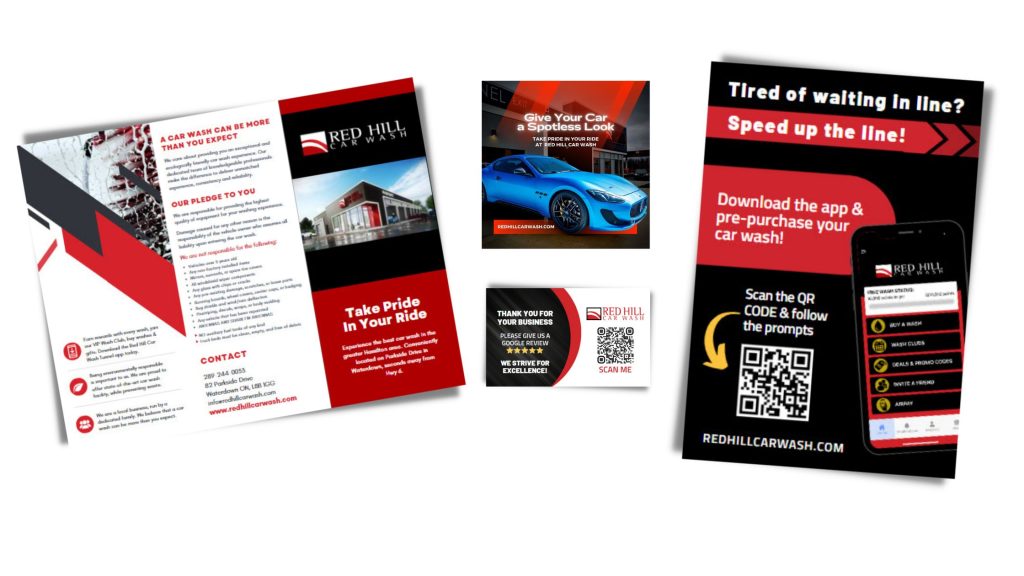 Collaborating with Melanie and Red Hill Car Wash was an incredibly rewarding experience. Witnessing the brand flourish and thrive at the new location is a testament to the dedication and hard work invested by all involved. If you are seeking an online partner who can propel your brand to new heights please reach out to UTHRIVE Online. Together, we can take your business to new heights and make your vision a reality.